Family Photographer
Family Pictures At Your Own Home
A family photographer is probably someone you should get to know a little. Family pictures are one of those things that we often skip having taken, and yet they are massively important, especially as time marches on. Wouldn't it be easier if they were taken at your own home? We can arrange that.
As families grow and mature, everything changes very quickly, and taking regular pictures is absolutely invaluable. For me, they can literally make me cry with joy, looking at pictures of my kids from even just a few years ago.
It's true that in a disaster situation, like a fire, most people would grab very personal things like family pictures. We can easily replace a pair of shoes, but we can never replace that photo from 5 years earlier. This is also where a family photographer comes in – archives.
I have literally had clients call in tears, having had their computer crash, or their laptop stolen, with all of their precious family photos lost in the process. Luckily, I keep all photography sessions of my clients, always, so they were able to get back at least the pictures that I took.
The value of our family pictures should never be underestimated. As a family photographer, I see the expressions on the faces of my clients when they get their beautiful new photographs. Priceless.
Investment
Artists Fee - $300.
This includes the pre-consultation, one hour of photography,
and an in-person viewing session of the images.
Collections.
Packages with a session and various amounts of digital images start at $400.
I offer a collection of boutique and heirloom quality products starting at $395.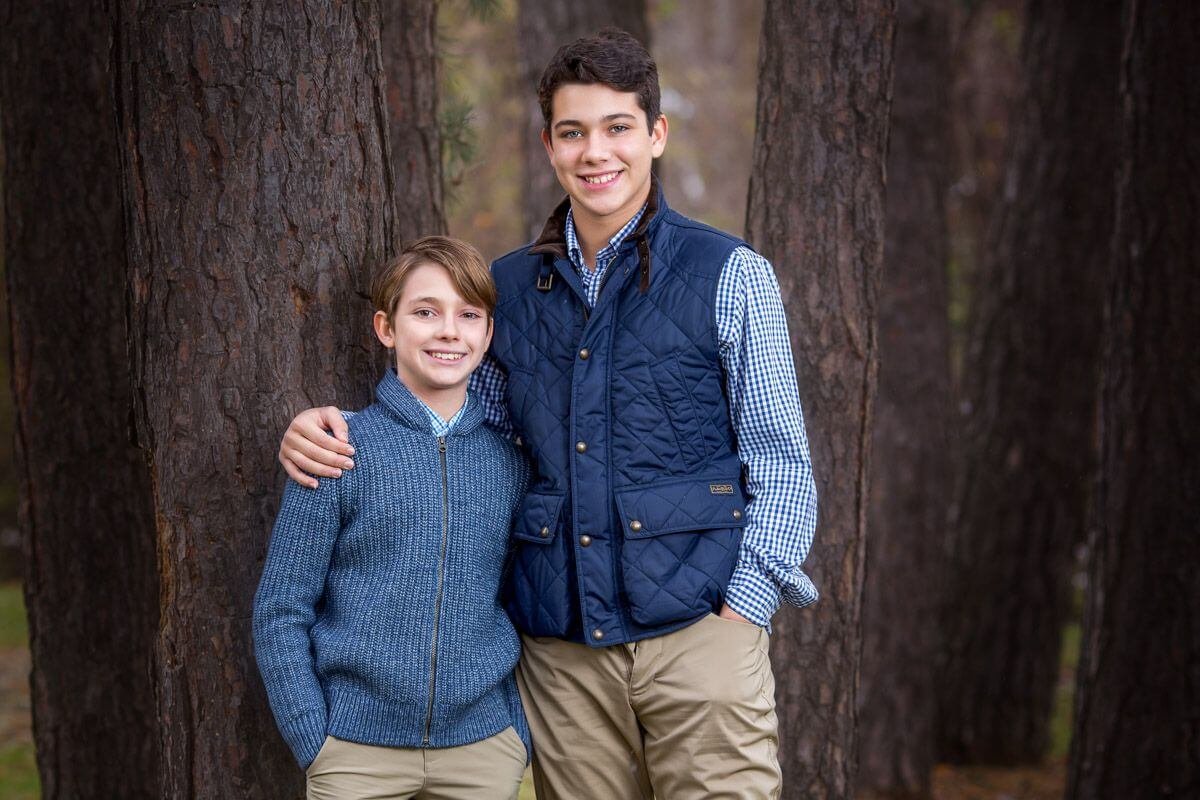 The Golden Hour.
Being a family photographer, I have my favorite locations for family pictures, some are better at sunset, some with beautiful natural light areas, and some are more colorful.
In the evening, just after the sun dips below the horizon, we get the "Golden Hour". It's the perfect time for a family photographer to create an excellent family portrait. This of course assumes that you would like your family pictures to be taken outdoors. You can choose when booking of course, where you would like your family photos taken, a studio photoshoot, or in the great outdoors, where there is more opportunity to capture candid moments. Whatever you choose, a good photographer should make it a great session.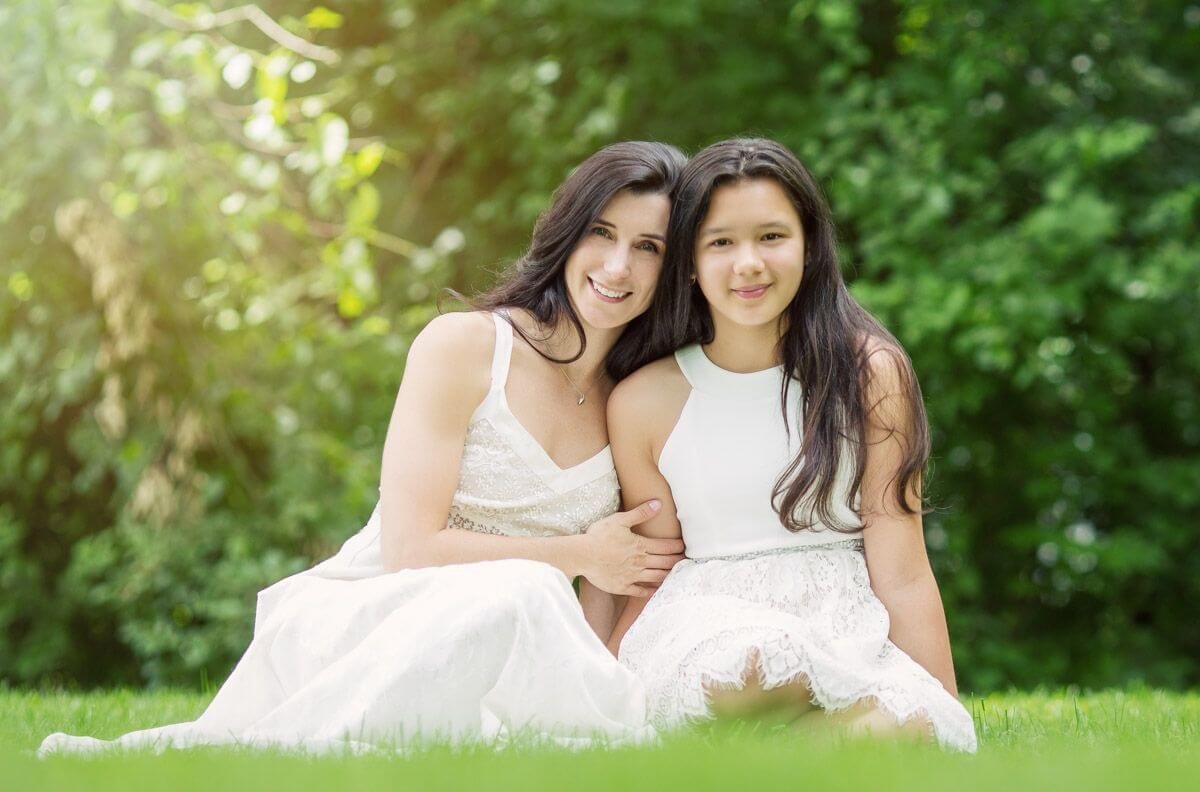 Location, Location, Location.
As you can see from the pictures on this page, it's not set in stone that your family photographer takes you to Bali for beautiful backgrounds. The side of a brightly painted barn can produce lovely photographs. If I pull everyone a few feet forward then we can get blurry backgrounds.
Family Pictures In Studio.
Every family photographer loves working in a studio, for one major reason. Control.
It can rain, hail, or snow outside, and it doesn't matter. And every family photographer has suffered the frustration of the wind blowing hair over faces. So an indoor setting allows for complete control. If we want hair to blow, we will switch a fan on.
On the other hand, there is less variety of backgrounds. Working outdoors allows children to run wild, not something that works in a photography studio. In the end, you just have to choose the style that you prefer.  Some clients do both – a spell in the studio followed by a trip to the park with their family photographer. It's awesome.
Wall Portraits.
If you were to ask me "As a family photographer, what's your ideal end goal for your clients?" the answer is obvious to me. If you shook me awake in the middle of the night and demanded an answer to that question, I would reply immediately with "To see large wall portraits hanging in your home"
Keeping our family pictures digitally is of course a good idea, but, how can we enjoy them if they are on a thumb drive or a laptop, sitting in a drawer? Out of sight, out of mind. They exist in a place where we can't actually see them.
Pictures in frames dotted around your home on the other hand bring much more pleasure to everyone involved. They are visible, the main reason they exist.
You can place 30 pictures in 7×5 frames all over a room, but it won't demand the attention that a large 30×40 wall portrait does. The bigger it is, the more spectacular. Here's a view of what a large wall portrait might look like in your home.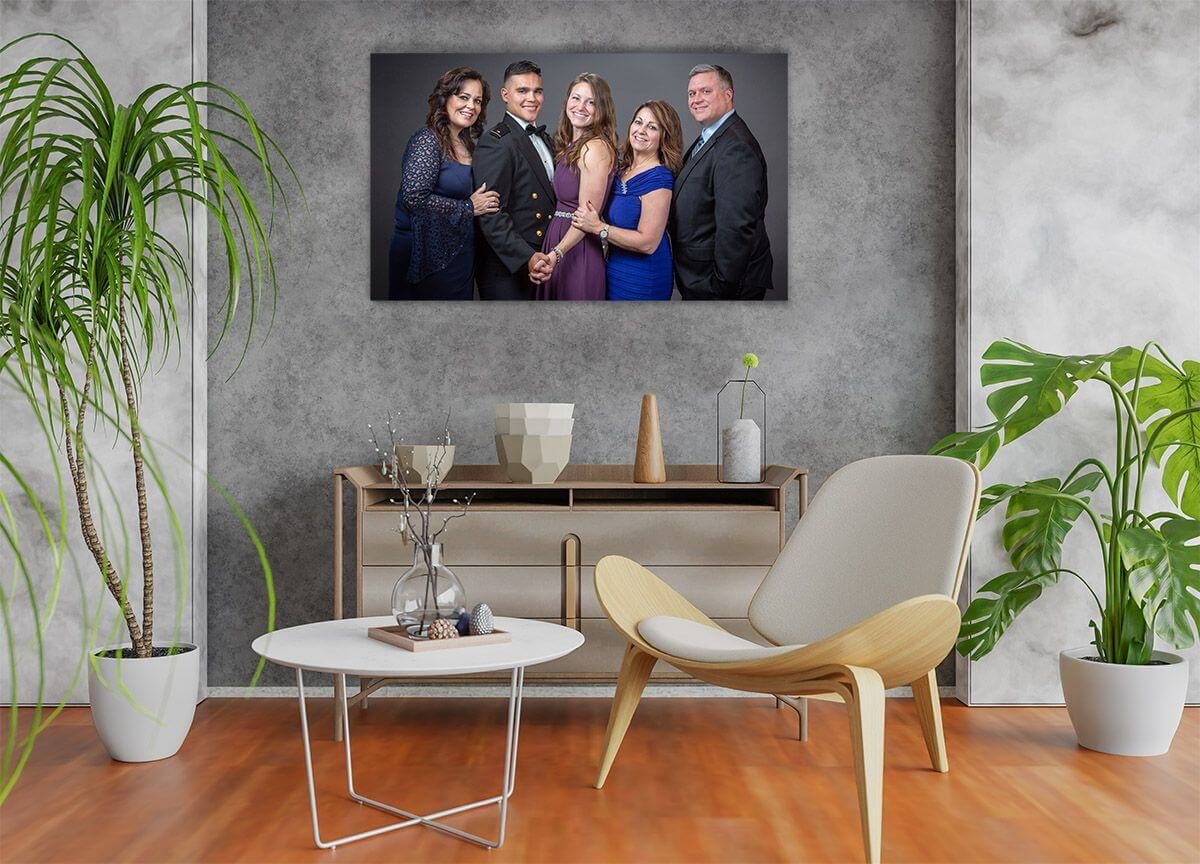 How Much Is A Family Photographer?
As with all custom services, it depends. It depends on how much time you want your family photographer to work with you, and what the end products are. There are digital images, prints, wall portraits, and even albums.
As a guide, my clients spend anywhere between $500 and $1,500 on their photos. Less and more are both possible. I like to think that for the price of an average phone, my clients can end up with memories that will last a lifetime, even pass through generations. And why not? Our children will have children, who will have children, and these images could go a long way. We better make them beautiful, right?
How Do We See The Images?
There are a couple of options. One is that we can sit down together a few days after the photo shoot, once I have time to edit the images. I will be able to give advice and answer any questions that you have.
The other option is an online gallery. In that case, the final images are uploaded to a gallery for viewing, and you can of course pass the link to everyone in your circle.
It can also be both options.
What Will We Wear?
It's a great question. Some families like to coordinate, maybe all with blue jeans and white tee shirts, while others like to be different.  It's really a personal choice, and it's worth looking at images online.
Please get in touch if you need any help.
Maternity & Newborn Photography.
These are sessions that require a bit more planning. Please get in touch to discuss these potential sessions before booking.
Stick With Your Family Photographer.
It may seem self-serving that as a family photographer, I'm suggesting that you stick with me, every year, but I do have my genuine reasons.
As a photographer and as a father who has lost a child to sickness, I am acutely aware of the importance of photographs. Every single photograph of my son Christopher is a work of art to me – even if it's blurry. The importance of the images captured by a portrait photographer is immense, if not today, one day.
The first thing is connection.  In working with your photographer, whether it's yearly group photos or a birthday party, a relationship is built over time.  And that helps a lot, people are more relaxed around their family photographer if they have been around them many times.
Then there is the style.  Your photographs will be consistent from year to year using the same photographer, and at some point if you decide to put together a photo album, it all gels. It fits together best if the final pictures all came from the same photographer.
Possibly the most important consideration is you are more likely to send a quick email every year saying "Hey, we need new pictures" if you have a good relationship with your family photographer.
Some things to consider, right?
Families Love Photo Shoots.
I have noticed over the many, many photo sessions I have done – families have fun with their photo shoots. Everyone gets dressed up, sometimes it involves larger numbers made up of several families, it's awesome! It's like a social gathering of sorts.
My work as a photographer grants me the privilege of seeing families come together and have fun. It's a beautiful thing.
Best Family Photographer Near Me.
Did you search for "best family photographer near me"? If you did, and I came up, I'm flattered.
Seriously though, I don't know where I fall on the list of best family photographers, but what I do know is this – I will work hard to make sure you get the family photographs that you desire and deserve. Making sure that you are happy with the results is what it's all about.