Senior Photographer
Senior Portraits Sessions – Booking Now!
As a high school senior photographer, one thing I absolutely enjoy is the variety of styles exhibited by the students. Senior portraits are fun! Always incredibly varied, and always with people who really, really want to be photographed. Creating high-quality senior portraits is such a cool thing to get to do.
Every high school senior has their own unique style and personality, and very often they have a good idea as to what they want their senior portraits experience to be. They will even arrive with their own ideas about senior picturess, poses they want, and outfit changes, making their photo shoot even more varied. Photographers love it when a senior has ideas.
Straightforward Or Creative Senior Photos?
One senior might want to be relatively straightforward in their styles, another senior might want to be really creative, even a little crazy at times, and most are willing to try anything to get the shot. Climbing trees, getting into rivers, they do it all. But of course, if there are absolutely no pre-planned ideas, it's the job of a senior photographer to fill in the blanks. We won't lack inspiration.
Investment
Artistic Fee - $300.
This includes the pre-consultation, one hour of photography,
and an in-person viewing session of the images.
Collections.
Packages with a session and various amounts of digital images start at $400.
I offer a collection of boutique and heirloom quality products starting at $395. 
Senior Portraits – Locations
Being a senior photographer, I always end up trying different locations. There are urban settings, maybe using local landmarks in the images. Grungy locations, nature areas, there are so many options.  Or, why not a bit of everything? I'm a photographer, I am happy to try everything. Any photographer who loves their craft will work hard at your photography. Getting great pictures is the goal.
The three images above were from a recent senior photo session, all taken on the same day. The graffiti adds a grungy look, the river brings in nature, and of course, even a brick wall can serve a senior photographer well.  There were also images taken in a city street, showing an environmental style. So don't feel that we have to be limited in locations or styles when capturing your photos.
Themes.
Sports are a popular theme. The young lady in the images above has a brother, here is one of his senior portraits, on the track. Music is another, many students want to be photographed with a musical instrument. It's fun to be photographing one senior with a guitar, and the next senior with a trombone. Every picture can be so varied, and every picture is so unique.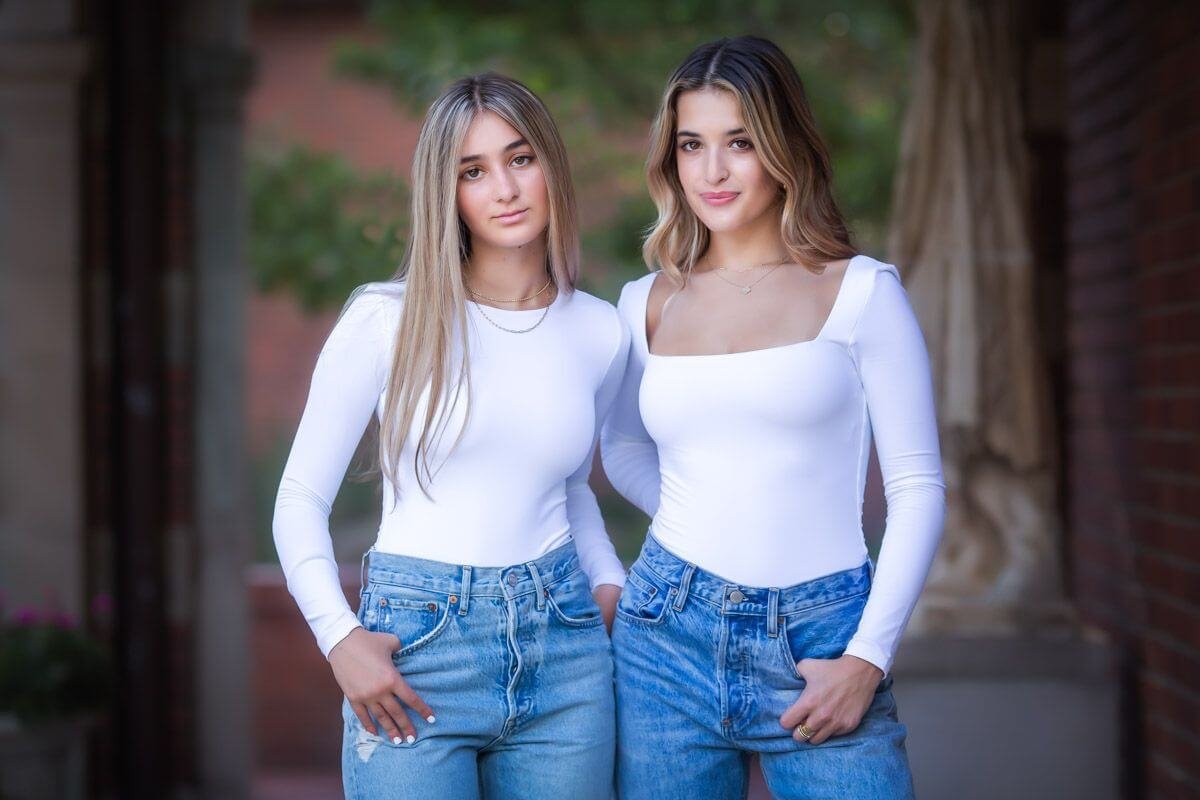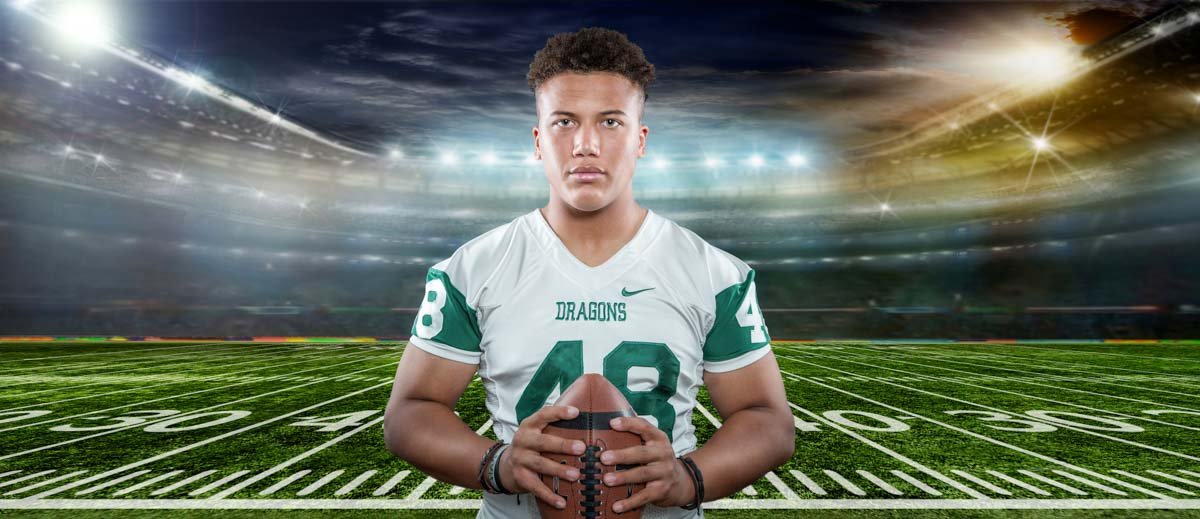 What Will I Wear To My Senior Portraits Shoot?
Senior photographer logic goes out of the window on this one! With a standard portrait bright or garish colors would normally be avoided, but for senior portraits, everything goes.   We are capturing who you are, in this moment of your life.
The best advice is to bring along everything that you could possibly want to wear. If we are doing a studio session there will be changing facilities. If it is on location, available restrooms work, even a car can be pressed into service for a quick change.
What Makes You Feel Beautiful, Or Handsome?
Whatever those clothes are, that's what you want to wear in your pictures. These are pictures that you want to feel great in, and that will affect how you feel when you view them.  So the clothes you love to wear, need to be in your pictures. The photography will turn out better.
Gradually Dress Down.
Start with the dressier outfit. It's better to have to pull on a pair of jeans in the middle of a senior portraits session than to be climbing into a dress or pants. Start dressed, and work towards casual.
One thing you absolutely should do – it's bring your favorite outfit or item. That thing that you feel great wearing?  Bring it.  Despite my years of experience as a senior photographer, I'm still amazed at the wardrobe people can show up with. It's totally cool.
What About Hair And Makeup?
For boys, if you are getting a haircut, make sure to have it done at least a couple of days before your session. Newly cut hair looks .. well, newly cut.  It will be obvious.
Girls, as with the boys, don't have your hair cut on the day of your session. You can obviously have it styled, and that really can make a huge difference to your images.
Makeup will look heavier in camera, so it's best to tone it down a little from the level you ultimately want. A natural style of makeup will usually be the best fit, but again, rules are made to be broken. So if you want to go a little crazy…
Should I Get A Manicure?
It's a great idea for your pictures, yes, you should. Since your hands will be in many of the pictures, a manicure is a good idea. 
A word of warning about waxing. If you intend to get your eyebrows waxed, or any other wax treatments, do it at least a week before your session. Your skin needs time to recover, you don't want to have areas glowing red in your pictures.  
The same thing goes with tanning, don't do it close to your session. As always, a photographer is a great source of advice on these matters.
Do I Need Props For My Photos?
You don't absolutely need props, but like tons of clothes, they are useful to have around. Hat's scarves, canes, a boa, musical instruments, items from your hobby, and anything that screams who you are should be with us at your session. If you don't want to bring anything – that's cool. As any senior photographer will tell you, more is better. I have never done a senior shoot where I thought I needed less stuff. More stuff, more photography, more pictures.
What Should I Expect From My Photographer?
The first thing you should expect from your photographer is professionalism. I think that being respectful and obeying social boundaries is crucial. Personally, I will never walk up to a client and touch them in any way. If some hair is out of place, I ask them to fix it. The same with clothing.
My preference is that you bring someone with you for your photography shoot. They will offer moral support, and be on hand to help with any hair or clothing adjustments, and it's just a more sensible approach to take in our current world. 
Senior Pictures Checklist
1. Pre Session Consultation.
Let's have a conversation about your clothes, style, colors, etc.
2. Professional Make Up.
Girls, this will make a serious difference to the results of your session
3. The Photo Shoot.
Typically, a senior portraits session lasts 1 – 2 hours and sometimes can be even more.
4. Editing & Retouching.
This is where a lot of the work is done, highly polishing your final images.
5. Choosing & Ordering.
Here we view your images and help you with the image selection process.
6. Your Product Delivery.
Take delivery of your beautiful senior portraits. Digital files are sent through email, physical products must be picked up.
7. Online Gallery.
An online gallery will be created so that you can send family and friends to view your entire image collection.
 A Senior Photographer Should Always Be On Hand.
This is a big deal, getting senior pictures taken is a once-in-a-lifetime thing. And so you can contact me at any time before, during, or after your senior photography session if you need advice. 
Want some ideas or info?  Have a look at these sample poses.