A couple of senior sessions with Dakota produced some lovely images, and for some reason entirely unknown to myself – I didn't blog them! Better late than never I guess.
Session one was in a studio setting, and a selection of favorites are included in this post.
Dakota is really interesting. On the one hand, she appears to be a girlie girl, what you would expect from any teenager. And it goes without saying, she is a very pretty young lady.
Then, there is the other side of her. She's a rugby player! Now, rugby is not a sport where you expect not to break a fingernail – or a bone for that matter. Think American Football – without the protective padding.
So we just had to get a shot of her with her rugby ball, and in this instance, we decided to do it with Dakota wearing a dress. A bit of a mix of styles, the rough with the smooth so to speak.
And My Favorite Is …
The rugby ball/stadium shot is possibly my favorite shot from the session, I hope you like it too.
The next blog post will be the outdoor session, in Fall. That seems a lifetime ago as I look out the window at snow! Look out for those images soon, she of course sparkled in those too. Don't forget to check out the outdoor session.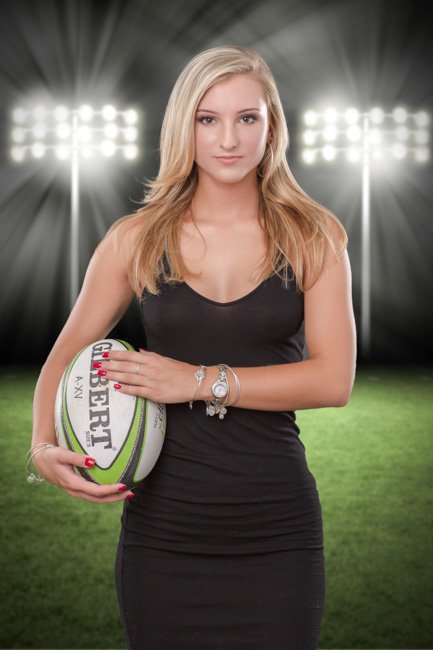 Here's a link to a boy senior session.
And here's a link to another senior session with a boy star!